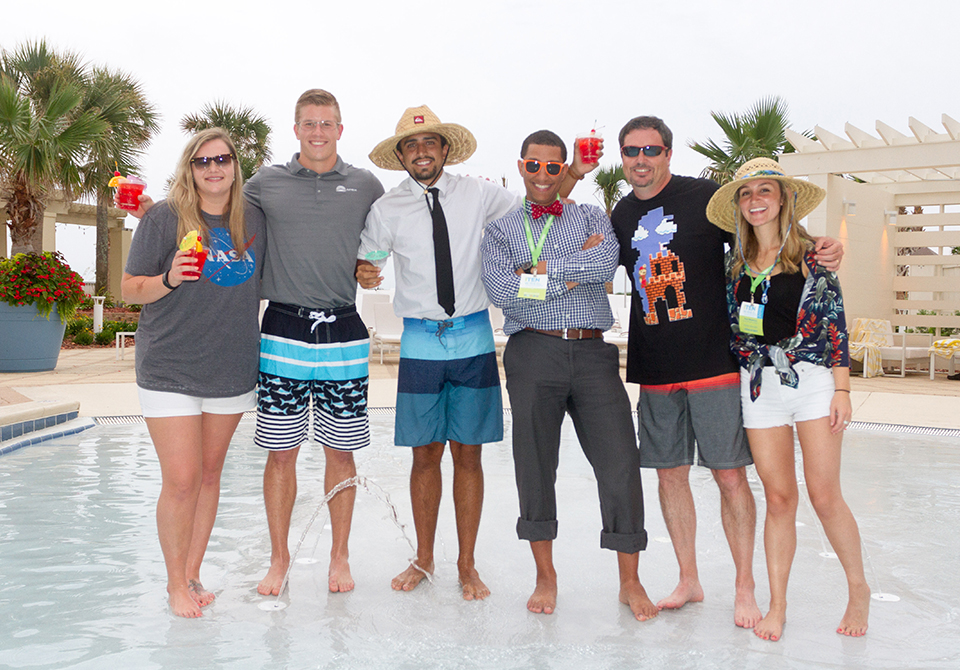 20 Jan

Geeks on the Beach: Working from the CyberCoast

If you can work anywhere, what could beat the sugar white sands of Pensacola?

Working from where you want just may be the future of how we work and where better to work than here? More and more, tech professionals are seeing that the Pensacola area is the place to be.

Jonathan Arneault, Director – North America SaaS with IBM could have worked anywhere in the world. So, when he asked his boss 10 years ago if the company minded where he lived. He said "As long as you have an airport and the internet, I don't care. Your job doesn't require you to be in a physical locale. Since that's the case, pick where you live!"

Besides the obvious draw of sugar white sands, there are many advantages for telecommuting employees to self-select Pensacola.  IBM already has 27 mid-to senior level employees here and only two of those have any direct responsibility locally. All these employees have self-selected the Pensacola area as they place they wanted to be.

"I've worked remotely since 1999 and this is the fifth company I have been working remotely," Arneault says, "I started working remotely in New York, and the job carried with me when I moved to Florida. When I came here, there was zero change in the work except that I had no income tax which is a tremendous advantage. If you are from New York and you move here it is a 6% pay raise just for moving. Plus, my little 1400 square foot house in New York vs. my 3000 square foot house three blocks from the bay at nearly the same price."

"I can be in downtown Atlanta faster than people who live in Atlanta, and I do it often. I can be there for a morning meeting and back at lunch."

Travel time is another consideration. "Let me tell you something about the Pensacola area: This is a fabulous commuter city," Arneault says. "I can be in downtown Atlanta faster than people who live in Atlanta, and I do it often. I can be there for a morning meeting and back at lunch. In 2009-10, I did 400,000 miles out of Pensacola running a worldwide business. Living here, I reached anywhere in the world in the same amount of time as I would if I lived in Prague or Dubai or Istanbul. The cost of living is lower, there are great schools here, my family is happy here, they have friends here and it's a very easy commute for me and those like me. "

The word is getting out that Pensacola is a perfect spot for tech careers. There is no better way to spread the word than to show it off.

"In February we had a team meeting here. We had to have it someplace – and my team all said 'well, we've never been where you live, but have heard so much about it'. We had a very productive team meeting while we just happened to be staring at the Gulf of Mexico."

"They said, "You really live here?"

"My house is right there," and I'm pointing over the sound. So, two of them are looking at moving here because the cost of living is lower and they experienced a wonderful environment and nice people."

The other draw is our growing tech community. "People drag along skill sets with them.  People think, 'There are people like me there. There are peers outside my industry that have similar interests, skill sets, lifestyles.' People want a community that they fit into easily. "

Arneault sees opportunities increasing every day, "I anticipate we will see a significant amount of high-tech immigration in this area. They will come because they can start by telecommuting and then what you will likely see is start-ups and move-ins around those startups that are known companies. I anticipate that in five years this will happen organically because the pieces are in place and word is getting out."

Another tech executive drawn here by the lifestyle is Brenda Harris, Global Sales Enablement Manager at Oracle. Harris also was able to bring her job with her to Pensacola.  "My role is teaching salespeople globally how to sell our products; we have made a large shift to the cloud and what does that mean? I create the messaging and the content that supports it.  So, they can take that content and make it their own."

Harris has worked with Oracle for ten years, six of those years in Pensacola, and loves working from home, "It's just about being able to have that work-life balance. It is important to have that conducive workspace that makes you happy. I can't say enough about how fantastic Oracle has been about allowing their employees to have the independence to be able to work from home."

Her stay on the beach started with a boat. She and her husband Jeff traveled the world on their boat for two years before weighing anchor on Pensacola Beach, "How we found this area, we had a boat, so we were looking at coastal areas, near Atlanta, where we can keep it.  So, we stopped in Pensacola to see what it's like and said 'Wow, it's really quite affordable here!' and we saw the condo on the beach and it was all in one trip."

"I just fell in love and ended up buying a place, and I've been here ever since. With my work I can live anywhere so it's been so flexible I could continue to work from home. "

The beach is one of the reasons for landing here, "I'm a water person, I like the ocean and I don't like a lot of traffic." Harris says, "I also like that it is a community in a big city where there are a lot of companies, but you don't always connect with people. There is a lot of ways to connect with people. Having Meet-ups and having opportunities to connect, such as IT Gulf Coast."  The lifestyle, the ease of travel and the growing tech community are assets both to telecommuters and our tech companies.

The wonderful work-life balance is a huge draw for Pensacola area's leading employer, Navy Federal Credit Union. "At our Navy Federal Pensacola campus, we are rapidly expanding our career opportunities for IT professionals. Our Pensacola employees love that they have the benefits of working for a large organization but are able to serve our members while experiencing the more laid-back lifestyle of living in a Florida beach town," says Bill Hills, chief information officer at Navy Federal.