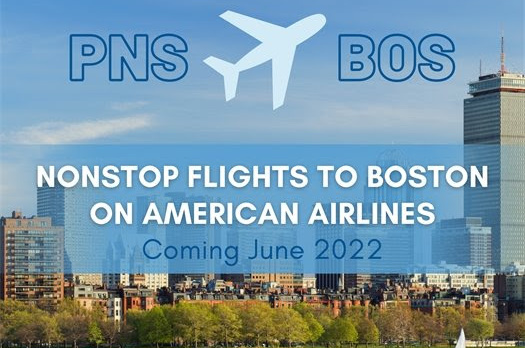 07 Jan

Hello Boston!!! Pensacola adds another non-stop flight

Boston, also affectionately known as the "Hub," is now connected to the Gateway to the Gulf Coast. American Airlines will begin offering service between Logan International Airport and Pensacola International Airport in June 2022, bringing even more nonstop destination options to Pensacola travelers. This route is a part of the Northeast Alliance between American Airlines and JetBlue, Logan Airport's largest carrier.

The Northeast Alliance aims to bring more flight options to passengers in Boston and New York through codeshare flights, new routes, expanded schedules, and reciprocal benefits through rewards programs.

Passengers on this weekly flight will take off aboard an American Eagle Embraer 175 regional jet. Flights will be on Saturdays and depart Boston at 9 a.m. (EST) and arrive in Pensacola at 11:30 a.m. (CST). Flights depart Pensacola at noon (CST) and arrive in Boston at 4 p.m. (EST).

"We are more than pleased to be a part of the Northeast Alliance expansion," Airport Director Matt Coughlin said. "Boston in particular will expand our reach into the northeast, thus giving our community new avenues to visit New England."

The added route is a part of several new routes announced from Boston including Halifax, Nova Scotia (YHZ), Louisville (SDF), Memphis (MEM), and Traverse City (TVC).

"This connection to Boston is continued evidence that Pensacola's airport is truly the Gateway to the Gulf Coast," Mayor Grover Robinson said. "Our team at the airport continues to improve, beat the odds, and offer exciting opportunities for those who want to travel this year."

Logan International Airport is an international hub that serves Massachusetts and all of central New England. It is large and busy, with many direct flights to and from major national and international airports.

Pack your bags and get ready for a trip down the Cape, see a Celtics or Red Sox game, and hit up Dunkee's.  Flights can be booked online at aa.com. For more information about Pensacola International Airport and flight schedules, visit flypensacola.com.
Easy To Get To, Hard To Leave
Pensacola is located at Florida's western tip, at the center of the U.S. Gulf Coast, we can reach Houston and Nashville just as quickly as Miami. We can get to a meeting in downtown Atlanta just as quickly as someone who lives in Atlanta. There are daily direct flights from Pensacola International Airport to Washington, DC, Chicago, Dallas/Fort Worth and many other cities.
Learn more