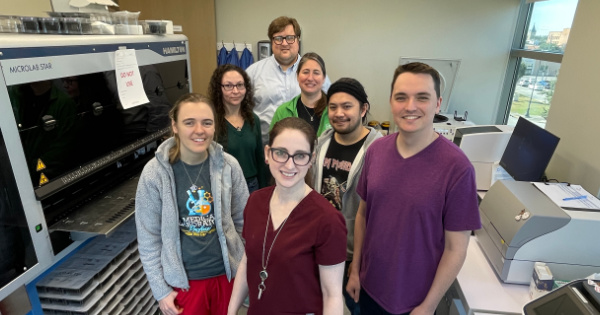 02 Mar

Downtown Pensacola FL Tech Takes Off

Pensacola, Florida is long known for its rich history, sugary white shores and vibrant downtown. A downtown alive with shopping, restaurants and entertainment. It's just what the tech industry is looking for.

From cyber to bio to IT to AI and robotics, Pensacola is quickly becoming known as a tech-friendly city in Northwest Florida. A diverse range of innovative high-growth tech companies have made their home in Pensacola's livable, walkable downtown.

Circulogene is a biotech company that deciphers gene information in blood to try to improve the treatments of those fighting cancer and to discover markers that show a propensity for certain cancers. Scott Grissett, Director of Client Services, says Pensacola's thriving medical community made downtown a perfect home for Circulogene's Florida headquarters and lab.

"When you look at this area and the medical community here — we have three major hospitals that do a tremendous job serving the community," said Grissett. "There is a firm foundation for biotech companies here in Pensacola — it's an environment that encourages improving healthcare for all and we wanted to be a part of that."

CO:LAB, Pensacola's community business incubator is the downtown home to diverse, early-stage, high-growth tech companies. With its dedicated offices and communal areas to promote collaboration and community, CO:LAB develops companies that are creating high-wage jobs and innovative technologies. This entrepreneur launchpad, a project of FloridaWest Economic Development Alliance in partnership with Pensacola State College, has helped many tech companies get started by providing resources and support that can sometimes be hard to come by.

One CO:LAB graduate has recently landed in its own new digs — a renovated mid-century sprawling complex near the waterfront Sanders Beach Community Center. It's here EBI Management Group leverages technology to serve the U.S. Government through business and technology consulting. This service-disabled veteran-owned company puts people first and tech second.
CEO Mark Kilcawley said quality of life is what attracted him to Pensacola and a large veteran labor pool made this area even sweeter. That's because Kilcawley is big on hiring military transitioning out of service. In fact, 65 percent of his employees are veterans.
"We invest in people before things," said Kilcawley. "And this is the perfect spot to invest in people — there is no better place to live and work than in Pensacola. We love hiring veterans — they're just a perfect fit for our culture and skillset. The advantage for us is made possible because of the huge military community here."
One of the newest tenants at CO:LAB has worked for other software companies for nearly 40 years. Now with his own venture, Ron Smith is building his vision in CO:LAB. His company, Envison Construction Management Software, helps contractors streamline and improve quotes, orders and invoicing and greatly improve time entry/management. Smith says CO:LAB coworking space is the perfect place to launch a new business.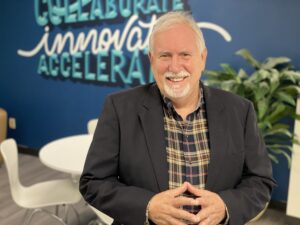 "I was introduced to CO:LAB by my son who was an intern at a company using CO:LAB at the time," said Smith. "I knew the model — and as a start-up I knew it would be a great solution because of the resources offered.
Keen on growth, Smith says the plan is to graduate from CO:LAB within the year and to move into its own offices — all while scaling up the business.
"Right now, we have 3 employees and we'd like to double that within the next year," said Smith. "Then the plan is to get to 30 employees by 3 years, and to 100 by 5. We chose Downtown Pensacola because it is such an attractive place for people to work. We can do what we do anywhere, but we chose Pensacola."
Few facilities highlight the diversity of tech's footprint in Pensacola like the Florida Institute for Human and Machine Cognition. As a not-for-profit research center that's part of the State University System, IHMC has built an international reputation for excellence in artificial intelligence and robotics.
IHMC's CEO and founder Ken Ford, a former Director of NASA's Center of Excellence, said another research endeavor is now underway — a collaborative effort aimed at investigating and maximizing human health, resilience, and performance.
"IHMC's international reputation in robotics and artificial intelligence speaks for itself," Ford said. "Our Healthspan Resilience and Performance team will focus on innovative ways to extend the capabilities and resilience of high-performing humans such as astronauts, fighter pilots and elite special operators."
The team's work is focused on improving the performance of elite military members who face unparalleled stressors. But the ultimate applications could be far-reaching, offering substantial health benefits to the general population.
IHMC's multidisciplinary, collaborative approach is critical to its success, Ford says, particularly as it looks to lead the creation of a human performance economic center of excellence in the region. IHMC received a grant for nearly $6 million from Triumph Gulf Coast to help in this effort.
"Investments like these will build capacity in the regional economy to support the robust ecosystem needed for the human performance industry cluster and keeping more of that work in the region," Ford says.
Downtown Pensacola is where nearly 500 years of history meets high tech. Downtown is ripe for businesses looking for quality of life in a vibrant city, access to a rich talent pool, a thriving medical community, entrepreneur launch pad and so much more. Interested in finding out more about locating your business in Pensacola? Find out more at floridawesteda.com.
The future of tech is being crafted right here. We've got the organizations and companies. We've got the talent. And we've got the capital. Whether you're moving a corporate headquarters or launching your own business, you've found the right place. Learn More